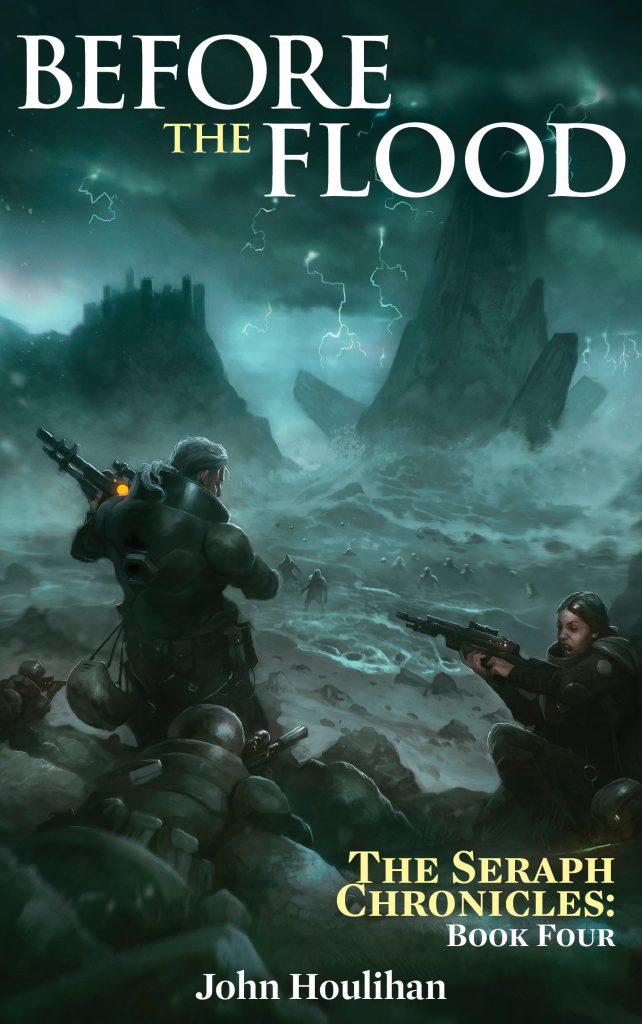 Well that took a bit longer than I was expecting, but finally … finally Before the Flood is complete and the cover is ready to be revealed.
As always, it's a fantastic piece from Spanish artist Borja Pindado, whose covers have adorned all the previous books in my Seraph series. I must say I think it's another belter, he's such a talented guy and it's always hugely inspiring to see your words provoke such amazing pictures.
As for Before the Flood itself, it's a bit of a departure from previous works and veers wildly and joyously into sci-fi and post-apocalyptic territory. Here's the breakdown:
"In the near future, flood waters have swamped Britain and malevolent sea creatures haunt its coasts. When a mysterious island surfaces offshore, a small team of British militia under the command of Sergeant Emma Stokes is dispatched to investigate. But a chance meeting with the mysterious Major Seraph takes them on a dangerous odyssey through this drowned world, to the hidden fortress-city of Gwaelod which seems to offer new hope in the battle against the creatures.  But as humanity clutches on by its fingertips, who are the real enemies in this deadly flooded world?"
Just the seven drafts and several years for this one, but I'm glad to be out of the relentless editing and honing phase.
Finishing a book is always an immensely strange time in a writer's life: the culmination of years of blood, sweat and unremitting toil sits there in your hand, whispering at you sotto voce, inviting you to stroke its cover and plunge into its depths.
But this stage, you've read it so many times, know it so intimately, it's hard to know whether it's any good anymore. Sometimes it just seems a random collection of words hurled at a page. Do they even make sense?
You're simultaneously stunned, relieved, dazed, apprehensive, but happy that the actual writing part is over. This thing exists now, never perfect, but the best that you could make it
Now, you're not exactly sure what to do with it.
Yet all consuming as it is, the writing is only the beginning.  Now you've got to get it in the hands of readers, shamelessly plug, promote and champion, a process, which despite a few attempts at it, has never exactly come easily to me.
Still, one stage at a time, and the first is to simply "publish and be damned" as they say.
It's out this month.