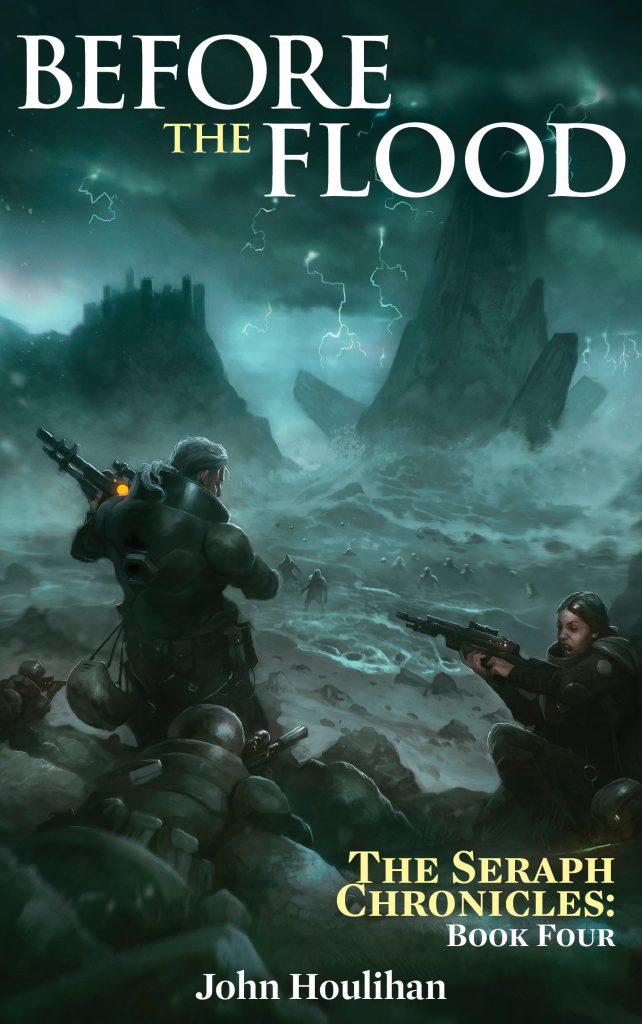 Well, it's finally here, I really pleased to say Before the Flood is now released and available on Kindle or Kindle app on Amazon.co.uk and Amazon.com and all Amazon online stores.
It's the fourth adventure for Major Seraph, and the first full length novel in the series and there's definitely a change of direction with this one, with sci-fi, post-apocalyptic, fear of the other and even trans-human themes coming to the fore – perhaps reflecting the strange and uncertain times we seem to be living in.
We writers love a peer into the future, but let's hope this one is not too prescient. Anyway, here's the back of the jacket summary:
"In the near future, flood waters have swamped Britain and malevolent sea creatures haunt its coasts. When a mysterious island surfaces offshore, a small team of British militia under the command of Sergeant Emma Stokes is dispatched to investigate. But a chance meeting with the mysterious Major Seraph takes them on a dangerous odyssey through this drowned world, to the hidden fortress-city of Gwaelod which seems to offer new hope in the battle against the creatures.  But as humanity clutches on by its fingertips, who are the real enemies in this deadly flooded world?"
I really hope existing fans and new readers will like this one – it's a fairly self-contained, standalone story, but as part of my launch promotion, you can also pick up The Trellborg Monstrosities free for a short while to help encourage new readers.
Hope you enjoy it and be sure to drop a comment or review if you have a chance, it all helps spread the word!