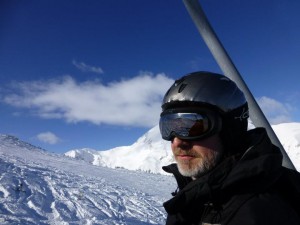 John Houlihan has been a writer, journalist and broadcaster for over twenty five years, working in news, sport, videogames, and latterly roleplaying, board and fantasy games. He has worked for The Times, Sunday Times and Cricinfo, was PC editor at GameSpot, Associate Editor of PC Gaming World and is a former editor-in-chief of Computer and Video Games.com. He has also written about video games for PC Zone, PC Gamer, Computer Gaming World, SFX and many more, and on cricket for Wisden Cricket Monthly, Cricket World, Inside Edge and Johnny Miller 96*. He was editor-in-chief of Dragon+ the official Dungeons & Dragons digital magazine for Wizards of the Coast and wrote the monthly sci-fi and fantasy book column Reading Matters for Geeky Monkey magazine.
He currently works line manager and narrative designer and line manager for Achtung! Cthulhu for Modiphius Entertainment as well being a video game consultant and script writer.
Bibliography
His first major book series was The Seraph Chronicles, as one man defies dread Cthulhu and his minions down the ages:
Tales of the White Witchman: Volume One (anthology).
Dark Tales from the Secret War  (as Editor)
He has also written the Mon Dieu Cthulhu series, swashbuckling swords-against-Cthulhu adventures set during Napoleonic times.
The Crystal Void Illustrated Version
Keeper of the Hidden Flame (currently in production).
He is also the writer for:
Achtung! Cthulhu: Tactics videogame
Stories in Anthologies
Ancestors and Descendants
Forgotten Sidekicks
Weird Tails
Near Future Fictions Vol 1
Nyarlathotep
The Hotwells Horror and Other Stories
Flash Fiction –  A Celebration of Short Fiction
Itty Bity Writing Space
For latest news and information see http://www.John-Houlihan.net, follow  @johnh259 on Twitter, or see UK and US Author Pages on Amazon.
 Contact
For further Information and review copies, please contact jollybigpublising AT Gmail DOT com
Follow
Twitter: @johnh259
Processing…
Success! You're on the list.
Whoops! There was an error and we couldn't process your subscription. Please reload the page and try again.