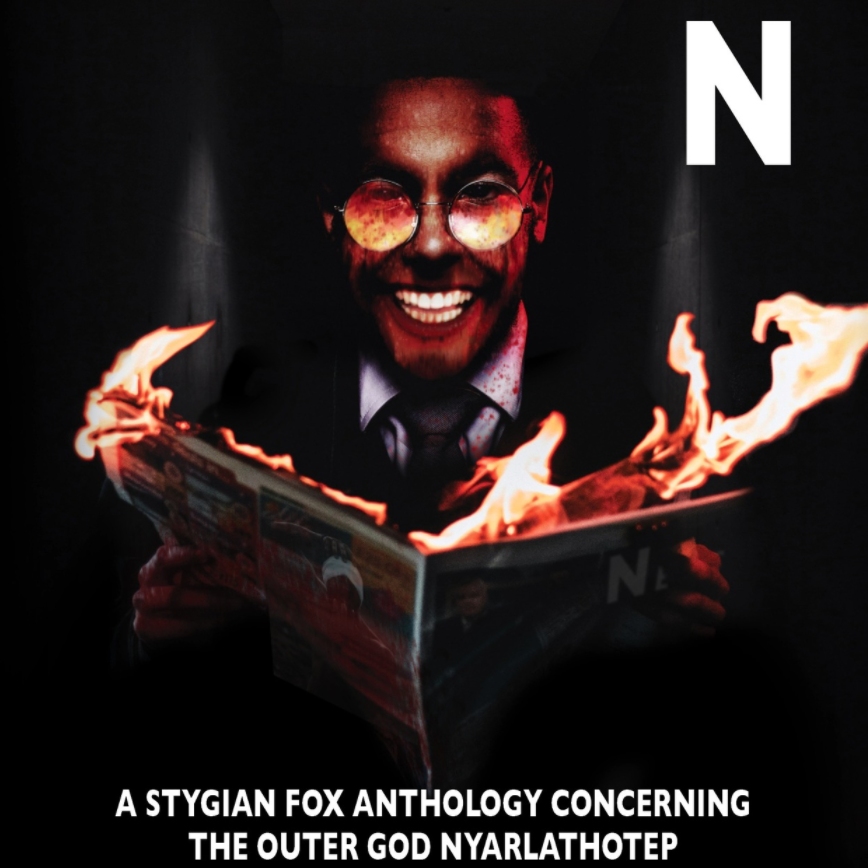 More fun today as the long awaited Nyarlathotep anthology from Stygian Fox makes its debut on Amazon.
I'm always tickled to be part of any anthology and for this one, I contributed Nyarlathotapp, an original short story.  Nyarlathotep has always been a fascinating figure within mythos circles: the dark pharaoh, the crawling chaos, the herald of the Outer Gods, and I've always thought of him as an even more evil Loki, with his signature move the spreading of doubt, insanity, and death.
I have written about Nyarlathotep once before, in The Three Temptations of Paco Aguilar,  but he retains a real fascination as an antagonist, one of the few mythos entities willing and able to engage with mankind directly.
For such an enduring and popular entity, he rarely appears in Lovecraft's work itself, with just two main stories Nyarlathotep and The Dream Quest of Unknown Kadeth, plus some cameos in The Dreams in the Witch House, The Haunter of the Dark, and The Whisperer in Darkness.
Perhaps his enduring popularity with mythos authors is due to those brief glimmers. He's a sort of malevolent blank cheque on which we can project our own devices and desires, endlessly malleable and adaptable, a dark god waiting to serve our every fell purpose.
In Nyarlathotapp, I've tried to explore how such an entity might use the modern world of smart phones and technology to deceive mankind and spread his litany of madness and death, mixing it with some portal jumping, multiverse-roving travel (when there's a pandemic on, the multiverse offers some very appealing holidaying opportunities).
It was a really interesting exercise, and I hope you'll check the anthology out, as it's a snip at just under $4 and has some excellent stories by Glynn Owen Barrass, John Linwood Grant, Eygló Karlsdóttir, Rhiann Waller and many more, as well as being edited by the estimable Simon Brake.
In other news, ahead of the launch of The Constellation of Alarion …erm soon, I've launched a newsletter which you can sign up for below. It'll be an occasional offering, with news, info, special offers, free stories and other goodies, allowing readers to stay in touch with what I'm up to.
It would be great if you'd consider signing up and then you can have me delivered straight to your inbox, which is a lot less rude than it sounds.
Processing…
Success! You're on the list.
Whoops! There was an error and we couldn't process your subscription. Please reload the page and try again.