Bansko 26 Feb 2018 – How to describe a day like today? Even as a writer, it's difficult to find the right words.  All I can tell you now is that I'm sitting here with a stupid grin on my face, high on wine and adrenaline and rewind-contemplating one of the best day's riding I've had in a long while.
If you're not a snow sports fan, look away now. From here on in it gets filthy … powder filthy.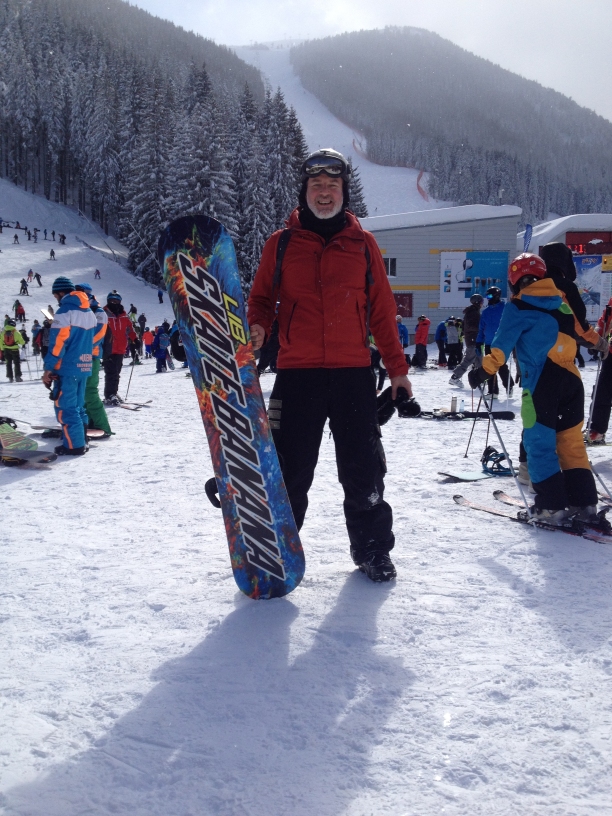 We're in Bansko – about 50cm+ of fresh snow has fallen in the past 24 hours. It's still coming down. These are the days that snowboarders dream of.
Many moons ago, in our snowboarding youth, we'd be up with the lark, no matter how bad the hangover, rushing up the mountain to carve fresh tracks. Age has mellowed this impulse and nowadays a cheeky 10 o'clock start is by no means uncommon.
However when you know a major dump is on the way, you need to up your game … considerably. Early night, down into the village on the first van, gondola can't go fast enough, On the chair lift up, you spot so many potential white lines, you almost start salivating.
When you rip that first turn and it's long and smooth and throws up a rooster tail that's saturated with fresh powder, then you know when you're in for a good day.
Lines, so many amazing lines: through powder-rich secret valleys; sniffing out cheeky stashes in the trees; riding back foot and so fast you're almost out of control; styling a full three-fingered grab; popping a cheeky 180 like it ain't no thing; flying so high over a double pillow jump you can almost count the seconds in the air; riding so fast and sweet through a floaty fluffiness that seems to envelop the world and whooping out loud with the sheer exhilaration  of it.
Even ending the day with a spot of urban boarding by strapping in and cruising down the main high street to pick up some beer.
Then, sharing all of this with some of your best riding mates?
These are the days that become legend.