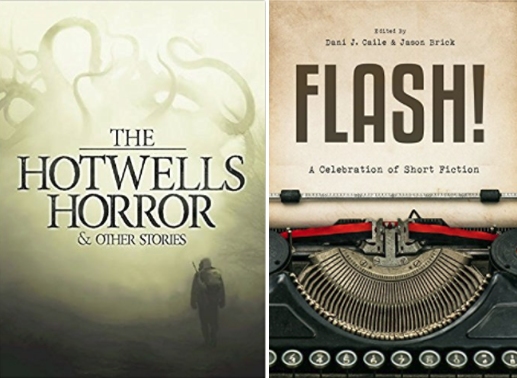 For writers, getting published is like veritable catnip, although those addictive doses, like buses, tend to be rather infrequent. So when two come along at once, it's cause for celebration.
First up, The Hotwell's Horror & Other Stories, a collection of 14 short stories from friends and admirers of the late great David J Rodger. I was fortunate enough to count myself as one of both the former and the latter and it was a real honour to go down to Bristol last month and read "Faster, Love, Die" at the launch. Great work from Pete Sutton and Chris Halliday on getting this anthology together and it was instructive to be amongst David's many friends and fans, I wonder if he ever knew how much he truly brought people together? My own contribution, Dead Reckoning, is set in David's intriguing Yellow Dawn universe and it's the tale of a unwary expedition exploring a savage Dead City, who are guided by a strange otherworldly girl. It's always fascinating to play in other writer's worlds, especially ones so vividly imagined and I hope he would have liked it, and deployed that trademark wry grin at an anthology in his honour. Oh, and all proceeds go to MIND too, so a good cause to support.
Elsewhere, a very short story called Performance in Jason Brick's cracking Flash! A Celebration of Short Fiction. This one's a bit more grounded in reality and explores a migrant's experience on the streets of London.  It was inspired by the walk I used to take from Paddington to Marleybone stations in my old days of working for the man in London. It's a bit more real world and socially conscious, and perhaps offers a rather different perspective in these dark, intolerant days we find ourselves in.
A few new projects have also appeared on the horizon which I'll update separately, and there'll be even be a chance to catch me live in London at another Virtual Futures event in April – details coming soon.