So it's been a little while since part one of this interview with the admirable David J Rodger first aired (over a month if the ol' chronometer remains anchored in the right dimension) and I can only apologise for that.
Dayjob has been extremely busy (who'd have guessed with two console launches coming up) and super busy outside too with more Seraph fiction on the go. More details on that shortly.
Still, it's finally time for part two and it'll be worth the wait, I can tell you! So join me once again for League of Cthulhu part deux, where David talks about the roles of writer and game designer, self-publishing, his current projects and what comes next for this most prolific of authors and splendid of fellows.
If you're a writer working in the extended Cthulhu universe and fancy submitting to the League of Cthulhu treatment, just drop me a line via the contact form and we'll hook it up</i>
Do you find it easy to balance the different roles of writer and game designer? What's the most challenging part?
DJR: Certainly writing and running an RPG, and writing novels within it, is a great way of knowing your fictional world inside and out. Although this also created a natural tension around time and time-management. Which product do I focus my time on? The Game or the writing? The way I deal with it now is to focus entirely on one or the other. When I am writing a novel I do not touch the RPG other than to actually play it.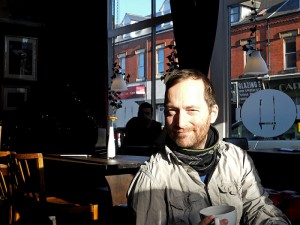 You've also designed murder-mystery scenarios for live role play. How have they been going?
DJR: Great fun. I love writing these things because it's a real challenge to come up with a plot, and then break down the character movements within the storyline to specific times and places and document who saw who, and who didn't – giving folks a chance to tell the truth with certainty or to take a chance and craft lies about where they were in any particular point in time. Unfortunately they take a LOT of time to create so the only polished version available is "Murder At Sharky Point". What I like about these creations is that they break away from the rigid linear format of so many boxed Murder Mystery Dinner Party sets. I've seen some epic arguments break out between players way too deep into character, yelling at each other and gesticulating wildly as they proclaim innocence against false accusations or cleverly stir up trouble to divert attention from a whopping lie they've released into the game.
You've self-published few of your works – what are the main challenges and advantages of taking this route to publication? How successful has this been for you and would you recommend it to new writers and authors?
DJR: Absolutely, definitely, yes. It's a great way of seeing what your product looks like in the flesh of dead-trees (or a Kindle screen) and allows you to start developing a fan-base; which is hard enough, but even harder when you haven't got a product. It allows would-be fans and critics to feedback directly on your product. If there's something wrong with it you want to know. Take your ego out of the equation and fix the bloody thing. Going down the self-published route gives you total editorial control and allows you to be master of your own destiny: very satisfying. It can also teach you some valuable lessons about what works and what doesn't work in your writing and your approach to market. Being self-published doesn't preclude you from then approaching mainstream "traditional" publishers and looking for a contract: but make sure you do that with your eyes wide open. Publishers are not patrons of literature. They're a business. There's a lot of hard work to get a book to succeed after it's been written, and even more needed after its been published. Also be aware that most publishers won't sniff at your beautifully presented approach letter unless you have a literary agent representing you, and agents are unlikely to consider investing time in you unless you can demonstrate value (such as being published). It can see very catch-22. But that's the nature of this game.
What can you tell me about your current projects? What's driving your creative impulses right now?
DJR: I've just finished the final edit of The Social Club, my eight novel and the third one to be set in the post-apocalyptic side of my "shared universe" – within Yellow Dawn. It follows Dog Eat Dog and The Black Lake (which received critical review in the Guardian). It's due for launch in November but I'll probably make a limited first edition available quietly to valued fans and see if I can generate some buzz with advance reviews. After this I'm back into Oakfield and Sunder Gloom, two novels I started in June. Oakfield's got the lion's share of my time as this has been planned in for years; Sunder Gloom was an idea I had whilst driving back from Bath to Bristol, traversing the rural beauty of the back roads that twist and wind through the hills here and I thought: what if there's something not so beautiful beneath all this? So that's an impromptu idea taking hold and jumping up the To Do list.
What's in the pipeline – where are you planning to go next?
DJR: I've got another five novels planned and ready to write after I've finished Oakfield and Sunder Gloom but I'm guessing next year I'll need to invest some time back into Yellow Dawn. Scenario writing and generating some buzz through expansions and talking about the game, etc. I've also got another Murder Mystery game I'd like to write up: I always enjoy tormenting my friends with a dinner party where they have to perform for their drinks and grub.
Any advice for aspiring sci-fi and/or fantasy writers?
Djr: Now is our time. Science fiction is creeping ever further into the consciousness of the masses and being a geek is actually rather cool. Well, that's what I keep telling myself when I look in the mirror most mornings: tufts of bed-head and stubble included. I think as new technology and new materials takes us further into outer space and down into deep sea space, as DNA is spliced and recoded into new shapes and functions, as new forms of power emerge in tandem with the decline in natural resources, with food shortages and socio-economic & religious upheavals, I think the day after tomorrow is a very exciting place to set any novel. The concept of Cyberpunk is almost very nearly a reality – if not already; and so the challenge is writing something that won't appear out-of-date too quickly. But if you're going to create a universe to set your books within, I'd recommend you create a ton of background material that helps define the world and shows how it hangs together. You might never use the material but it gives you the foundation stones to rest everything else on top. Writing an RPG setting around your ideas can help with this.
Huge thanks to David for taking the time and for a great interview. Remember if you're working in the extended mythos, either in fiction, game design or a combination of both and would like to submit to the League of Cthulhu treatment, get in touch via the contact section of the site, I'd love to hear from you.