Double tough viewing and reading this week, following the recent death of SF and literary legend Iain M Banks (I'll always append the M). There was a particularly decent and poignant interview in The Guardian over the weekend, displaying all the man's wit, macabre humour and humanity.
Tonight also sees the first broadcast of Raw Spirit, Banks' final TV interview with Kirsty Wark and I'd expect it to be as touching, insightful and hard to get through as Stuart Kelly's Guardian piece.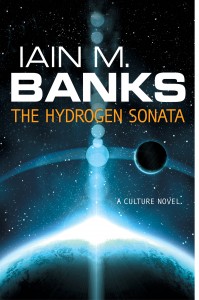 Even now I can still hardly believe he's gone, a damn shame and a genuine loss to the world (I felt the same about the death of George MacDonald Fraser). Although Banks' literary work touched the heights (The Bridge, Espedair Street especially), it was always his sci-fi work which was utterly sublime.
It was just so damn readable: the sheer scale of the vision, the wild flights of imagination, the dark, malignant sense of humour that constantly toyed and teased the reader, they all shone like golden seams through the prose.
He truly was a sci-fi titan and the Culture will endure as one of modern sci-fi's greatest inventions.
Banks' final sci-fi work The Hydrogen Sonata is peeping at me currently unopened and unread on my bedside table. A part of me doesn't even want to start it, so there'll always be one more Iain M Banks to read.
It may be a sacrilegious suggestion, but it would be an interesting experiment to see The Culture universe become open source, like Dmitry Glukhovsky turned over his Metro 2033 world for other writers to explore.
No one could quite compare with the original of course, but you do feel there's so many more stories left to tell. It would be a great shame if they all died with Iain M.