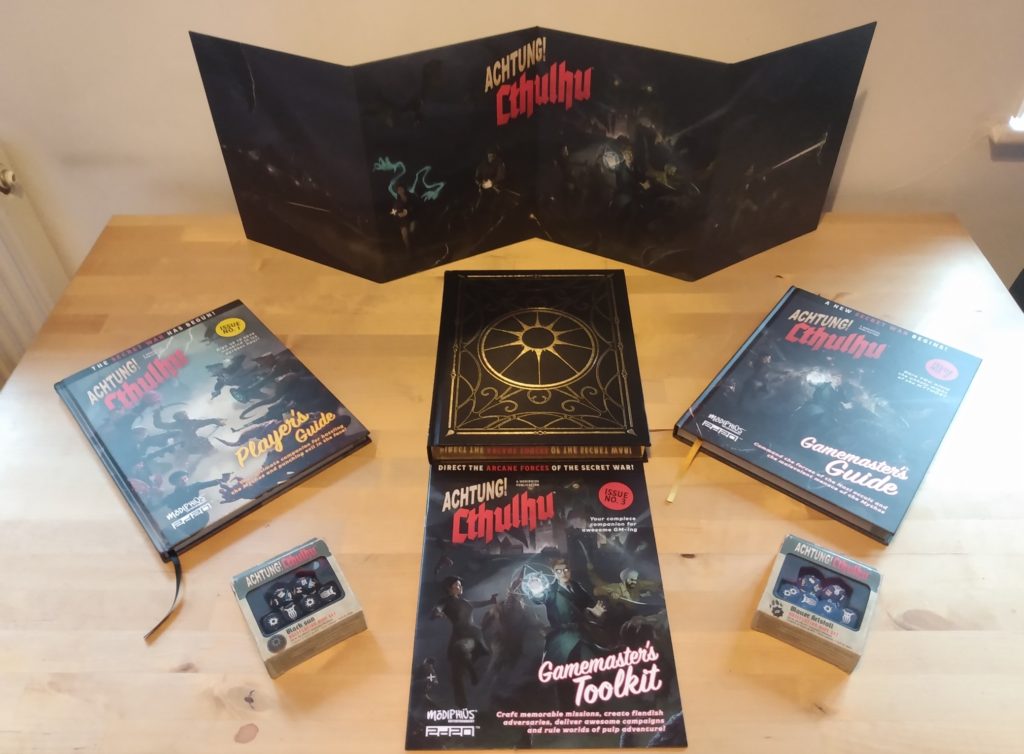 Wow, this was a while coming! I've just received my contributor's copies of the full range of Achtung! Cthulhu books, dice, and accessories and I have to say they are glorious!
Seeing your words and ideas made into such impressive physical form is always a supreme thrill and this is the culmination of over two year's work, re-birthing Achtung! Cthulhu for Modiphius's 2d20 system—giving a pulp, cinematic, action-adventure spin to the classic Modiphius series.
Achtung! Cthulhu is Modiphius' oldest original TTRPG and it helped launched the company some eight years ago when that first iconic Kickstarter, bought a WW2 setting to the Call of Cthulhu and Savage Worlds systems.
While those are great games, Achtung! Cthulhu needed revising and updating to make it more fun, accessible, and pacy and to appeal to both traditional audiences and capture new ones using our in-house 2d20 system.
I worked with so many fantastic people at Modiphius to make this happen, from original creator Chris Birch, to the army of writers, designers, artists, editors, play testers, project and production managers who supported the project all the way.
It was a real team effort and I learned so much about bringing ideas and concepts from initial draft to final form and learned new skills like art briefing and art direction but most importantly got to work on narrative and game design, my two favourite areas.
But this is just the beginning in many senses and now the core books and accessories are complete and out in the wild, we'll be embarking on a major new adventure, with a host of missions already available and more to come and big plans for further books, supplements and accessories in the next few years.
Keep your eyes open, agents, further details will follow!