Slack …slack …slacker than a Frenchman's jaw as he  contemplates a shelf of personal hygiene products ( only blague-ing mon petite, I'm actually a raging Francophile under these carefully cultivated layers of humorous prejudice)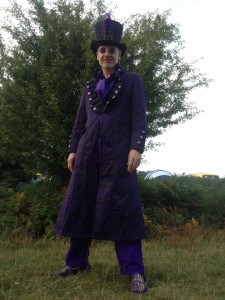 .
So, it's been a little while since there's been any updates and really I haven't got too many excuses, except I've been having far too good a time to write any. A long and mighty August included an epic road trip through France down to Spain, re-connecting with a bunch of old friends and then returning for a full-on party extravaganza.
All that and all you get is one lousy picture. But it's a pretty good 'un, even if I say so my good self, as I stand there bedecked in my finest purple livery. The story behind? Well I'll probably have to save that for my scandalous memoirs, but rest assured it was a stonker.
It's a strange time of year as summer ebbs into autumn – the light dies hard, but dark nights and foul weather mean there's little excuse needed to hunker down for the start of the work/gaming season.
Plenty of good things in prospect too… finishing off  A Late Flowering Deity which is now on the very threshold of the climactic scene, then it's back to editing a couple of Seraph novellas to complete the first volume of The Seraph Chronicles.
And very pleased to say I've just been inked in to be editor of the first Achtung! Cthulhu fiction compilation. More details coming soon.
No rest for the wicked indeed, but wouldn't have it any other way.