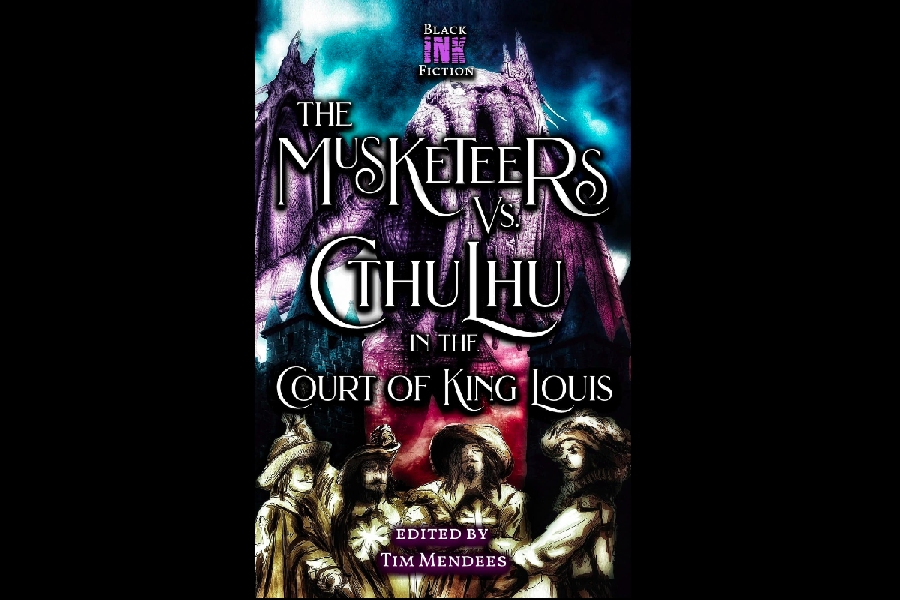 Publication day and always a joy to see a new story going into print. Today's comes in the form of an excellent new anthology entitled The Musketeers Versus Cthulhu in the Court of King Louis from the estimable Black Ink Fiction, which is now available in print and on Kindle in the UK and US.
This new collection features some fantastic fellow authors including Tim Mendees, Rob Poyton, and Chris McAuley and Claudia Christian (of Babylon 5) and was a tremendous conceit to write, imagining what might happen if the mythos invaded the swashbuckling world of Alexander Dumas.
My own contribution, The Thing in the Iron Mask, is told from the viewpoint of Planchet, d'Artagnan's manservant and sees the retired musketeers reunited to confront a new threat to France and discover the re-emergence of an old enemy.
Dumas has always been a beloved author and I've read all the musketeers books and long counted Richard Lester's movies, scripted by my favourite Flashman author George McDonald Fraser, as one of the finest incarnations of the tales. The incidental characters' dialogue is superb, but it's pretty much the perfect embodiment of each musketeer in Michael York, Oliver Reed, Frank Finlay and Richard Chamberlain. Add in Faye Dunaway as Milady, Christopher Lee as Rochefort and Charlton Heston as Richelieu (weird, but it works) and it was a massive influence on my heroic fiction growing up. I would rewatch the movies every single time they were on.
Spike Milligan was hilarious as the doddering Bonacieux, but Roy Kinnear's long-suffering Planchet was fascinating, a real departure from the brave and intelligent servant he is in the books. My own Planchet is even further away, a sorcerer of no little renown and the hidden, guiding hand who has directed the musketeers in their many adventures against the machinations of the mythos.
It also ties in to my own mythos universe and the later adventures of a certain Gaston d'Bois, though you'll have to read it closely to find out how. More will be revealed in the next Mon Dieu Cthulhu adventure, which is currently undergoing editing now for publication later this year.
But for now I hope you get a chance to read and enjoy it and look out for Black Ink Fiction too, they have some fantastic mythos fiction and anthologies in prospect.
One for all!