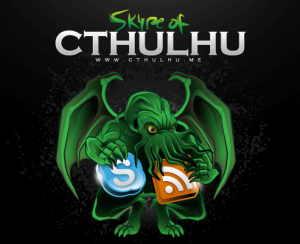 It can be tough being a writer, not real world tough, like hacking coal out of a mine, labouring on a building site or spending a twelve hour shift cleaning hospital wards, but it certainly has its own unique challenges.
Some days you hit the writer's equivalent of the wall and sit staring blankly, drooling, all creativity and inspiration evaporated, that empty screen howling to be filled and you've got precisely …nothing.
Worse still, you look back and review your previous day's efforts and find your prose so stilted it could be a churned into cheese and your dialogue so leaden it could cover a church roof.
You want to hurl your PC out of the window and go do something a bit less demanding like fingering crocodiles.
But there are moments too, which pierce the gloom like a stray beam of sunlight over the Yorkshire moors. A favourable review, a kind word, a gracious Retweet or someone live roleplaying your creation on t'internet.
That last one's not a ray of sunshine in which most authors can find their crumb of comfort, but it's one I can turn to now and the excellent Skype of Cthulhu who have been playing their way through the Trellborg Monstrosities.
It's fascinating to hear how complete strangers react to the characters you've created, deal with the situations you've set up and fight their way through your plot, all masterminded by the excellent work of Jim Philips in the Keeper's chair.
So Professor Deacon, Davina Rodgers, special agent Nathan Chance, I salute you all and now the group are nearing the climax, you can too, if you'd like to check 'em out they're at the following links:
Skype of Cthulhu The Trellborg Monstrosities Part One
Skype of Cthulhu The Trellborg Monstrosities Part Two
Skype of Cthulhu The Trellborg Monstrosities Part Three
Skype of Cthulhu The Trellborg Monstrosities Part Four