For a writer, few things can compare with seeing your name on a brand new book which has just arrived (or that new book smell) and so it's a delight to welcome a print copy of Near Future Fictions Volume 1, an awesome collection of stories from the writers at Virtual Futures.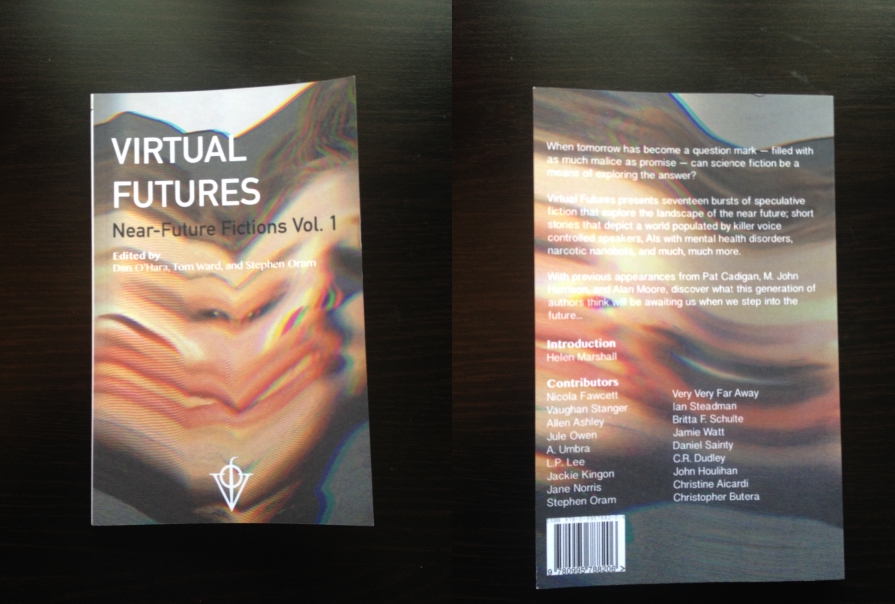 With previous appearances in the series from Pat Cadigan, M. John Harrison and Alan Moore, it certainly feels like being in august company and there's a wealth of great stories here (details below) and my own contribution "Carers" the very first thing I wrote for VF. Here's to many more and it's now available in print and on Kindle, so a perfect chance to explore some intriguing new writing from VF's stable of fascinating contributors!
Virtual Futures also do an excellent series of live readings and performances in amazing events in London, so hope to see you along to sample those sometime too!
Virtual Futures presents eighteen bursts of speculative fiction that explore the landscape of the near future: short stories that depict a world populated by killer voice-controlled speakers, AIs with mental health disorders, narcotic nanobots, and much, much more.
With previous appearances from Pat Cadigan, M. John Harrison, and Alan Moore, discover what this generation of authors think will be awaiting us when we step into the future
Contents
Foreword: On the Origins of Near Future Fictions

Helen Marshall Introduction

Nicola Fawcett There's Gold in Them Thar Hills, Boys, You Just Need to Know Where to Find It

Vaughan Stanger Bee Futures

Allen Ashley Inside, Outside

Jule Owen Young Blood

A. Umbra Cries and Bionic Eyes

L.P Lee Truth and What Comes After

Jackie Kingon Gourmet Hunger

Jane Norris The Department of Re-pairing

Stephen Oram The Never-Ending Nanobot Nectar

Very Very Far Away 'Very Very Far Away': Episode 01 — Dead

Ian Steadman Looking Glass

Britta F. Schulte The Secret

Jamie Watt Sequence

Daniel Sainty If you know what's good for you

C.R Dudley Undefined Variable

John Houlihan Carers

Christine Aicardi The Tablet Stroker

Christopher Butera Independent, Superior