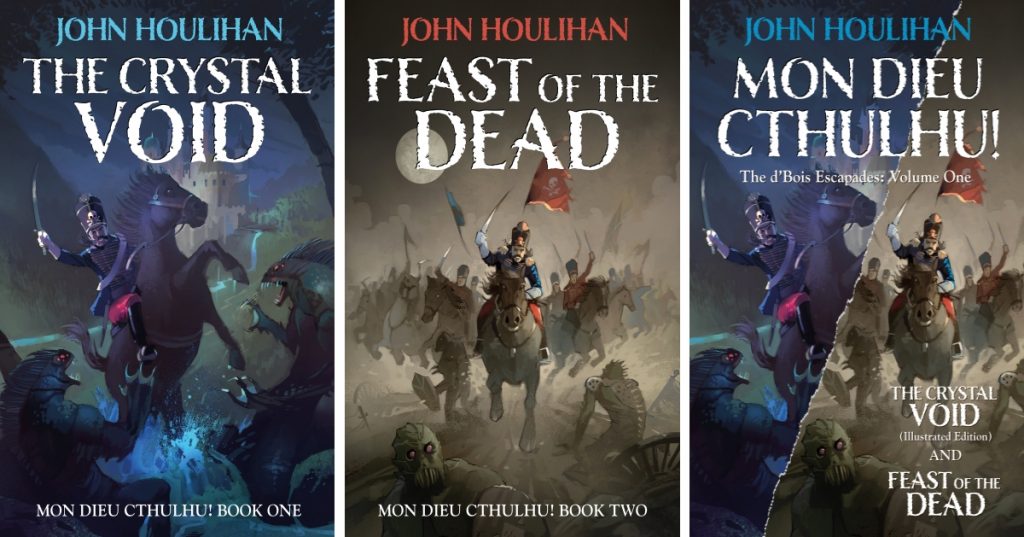 Quel délice! What a delight, a huge thanks to all you fans who've made the launch of The Crystal Void, Feast of the Dead and The d'Bois Escapades Volume 1 in the new Mon Dieu Crhulhu! series such a fantastic one.
It's been absolutely amazing to see the passion and enthusiasm for this new series with a host of kind words and reactions to the adventures of Lieutenant Gaston d'Bois (retired) as he looks back at his long, perilous and (sometimes) distinguished career.
The marvellous Sci-fi and Fantasy reviewer said "It's an epic, swashbuckling Napoleonic adventure expertly blended with chilling Lovecraftian horror, and I can only hope that we will see more from the author and the gallant d'Bois before too long." Check out the full review here.
"Muskets and sabres? I'm in!"
"Mon Dieu Cthulhu!" is one of the greatest book names ever."
"I'll definitely be getting these."
"I love these books. Anyone who has not read them is missing out. Please write faster."
"This will be on my Xmas list this year!"
"Napoleonic eldritch horror. COOL. You know someone who'd love to be introduced to this world. (& that person is probably you)".
Anyway there may still be a few on the fence or just want to try before you buy, so I've made a sampler of the first chapter of Feast of the Dead which you can download here. It's easy to mail to your Kindle or Kindle app for mobile, full instructions on this page and happy reading!
if you want more here's some links to my author pages in the UK and the US. See you at the chargez!