Phew just about made it in time! I've been rushing to get this website live to coincide with the release of some brand new work.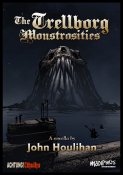 Those lovely and highly discerning people over at Modiphius have done me the singular honour of publishing my novella The Trellborg Monstrosities and its accompanying eponymous game design for Call of Cthulhu and Savage-Worlds.
Here's a taste:
"It is 1943 and the war hangs on a knife edge. Set free by a leading Nazi occultist, an ancient evil stirs in the snowy fastnesses of the Norwegian border, threatening to unleash a terrifying artefact which could not only alter the course of the war, but change the fate of humanity itself.
Hope though, endures, as a band of brave resistance partisans and heroic British special forces plunges deep behind enemy lines to confront the ancient horror. Yet, is their strange civilian adviser, the mysterious Mister Seraph, truly on the side of the angels or pursuing some dark agenda of his own? Can the fearful Trellborg terror even be defeated by mere mortal men? "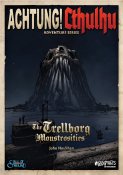 An absolute bargain for $3 right or buy the game scenario for Call-of-Cthulhu or Savage Worlds for just $11.99 and the novella is free. Don't say I'm not good to ya.
How did that happen? Well long story short, like most good things over a story and a pint. I was having a good old yarn with Chris Birch over a jar or two off the Marylebone Road one winter night, when we discovered a mutual love for both HP Lovecraft and World War 2.
Chris described his idea for a crossover universe called Achtung! Cthulhu, where the fiendish forces of the mythos and its servants seek to manipulate the course of the world war during mankind's darkest hour.
That's the kind of concept that immediately sets your mind firing. He said 'you should do something', I said, "I definitely will' and that's how the Trellborg Monstrosities was conceived.
I'll post a bit more about the development work that went into it when I have a bit more time and if anyone's interested 😉 but for now, enjoy! Oh and I've also scattered a few very short stories around the site to keep you occupied too.