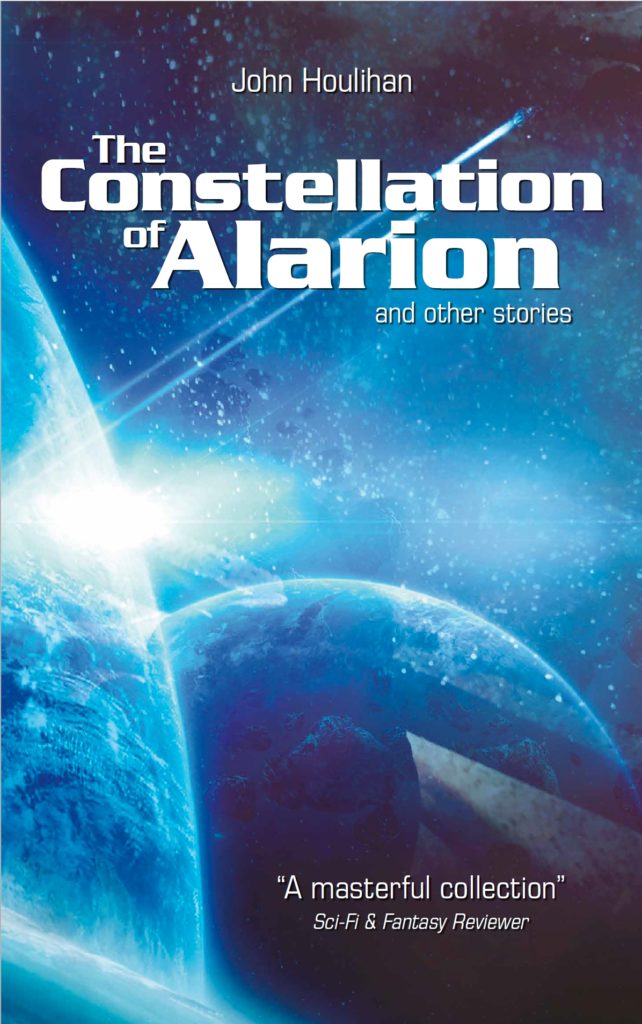 It's The Constellation of Alarion launch day and my brand new collection of sci-fi short stories is now available to buy in paperback and e-book! It's available on Kindle and paperback on Amazon UK and US, in PDF and paperback on DriveThruRPG, in PDF from Modiphus.net and also on Smashwords!
Some early reviews are in, the Sci-Fi and Fantasy Reviewer called it, "A masterful collection, deserves to be read by anyone with an interesting in original thought-provoking sci-fi", while Wargarage said: "A complete work… fun and varied… well worth reading."
Special Direct Offer!
But if you want to buy direct and save even more money, you can save 20% on the ebooks (Mobi, PDF and Epub) and receive them today, or get a signed paperback with your personal message for just £7.99 including FREE e-books (+ postage and packing)! Simply send an email to jollybigpublishing@gmail.com to take advantage of this special launch offer!
Huge thanks to everyone involved in the making of Constellation, it's been a real team effort: Richard L Gale for his stellar design work and editing advice, Liz from Ashborne Stardust Editing and Design for the cracking cover, Morgan Wright for the awesome promos and my panel of pre-readers Asaph Mehr, Adam Selby-Martin, Martin Korda, and Richard L Gale, all of whom helped shape the final release. Special thanks too, to David Raine.
Don't forget to sign up for my newsletter to win a FREE copy and take advantage of some special offers, deals and keep abreast of all the latest info! Congratulations too, to everyone who won a free signed copy, I'll be in touch shortly to send them your way!
Processing…
Success! You're on the list.
Whoops! There was an error and we couldn't process your subscription. Please reload the page and try again.
Here's a break down of what you can expect to find in The Constellation of Alarion!
Carers –When she's given new robot carer to help with her confused husband, Bernard, Molly starts to resent this intruder in ways she never expected.
In Charioteer, countries settle disputes the old fashioned way, trial by combat. As the eve of a great contest draws close, will Soola finally step out of her brother's shadow and embrace her true destiny?
Will the wars of tomorrow be as bloody and futile as those of today? Trial by Combat is a meditation on the nature of conflict and examines how we might solve disputes in apparently more civilised ways.
In Most Exalted the hero of the seven systems now resides in retirement, but when a series of suspicious deaths rock his veterans' home, will his dubious past catch finally up with him?
Post Lies – What happens when every lie you tell can immediately be detected by your listeners? How would people cope in a world where truth itself is weaponised?
Tolerance – The future struggle between man and machine in the world of work has only one winner. But when technician Kerrigan has a chance to reassert humanity's importance, will he choose to co-operate with an AI who seems determined to kill him by kindness?
Dead Reckoning – The lost claim all who enter their dead cities, but a small expedition of mercenaries seems intent on capturing a valuable AI in this post-apocalyptic tale set in David J Rodger's world of Yellow Dawn.
Trigger – A forgotten half-machine soldier endlessly circles the world of her race's most deadly enemies, poised to unleash destruction from an order which never comes…
In The Constellation of Alarion, a fabulous treasure lies hidden in the midst of a deadly labyrinth. Can three galaxy-hopping rogues overcome the maze's lethal traps and their own bumbling inadequacies to claim it?
Bomber Command – The crew of the heavy bomber Phoebe limp back home from their latest mission. When they crash land on a deserted moon, tensions rise, not only from their seemingly hopeless predicament, but about the very nature of the war they're fighting.